Service dogs spend much of their lives, not as happy-go-lucky pets, but within intense careers serving humans.
Their daily tasks are often dangerous to the point of risking death so people may feel safe and live better lives.
Once their "careers" are finished, service dogs are subjected in their waning years to abuse or even death.
It's a heart-wrenching reality that brought one police dog handler to tears. Facing imminent death of his service dog, he decided to change the end days of his brave service partner and others like him.
Instead of facing death, these dogs now look forward to a life of care and leisure from someone who loves them.
Bai Yan, from China, has trained more than 30 police dogs during his 13-year career as a handler. His unique relationship with service dogs gives him insight into their needs, and what they deserve in retirement.
"You could say they are my work comrades or even my family," he told local media.
Skin cancer attacked one of Yan's dogs, Sonny. The vet followed standard options and told him to euthanize Sonny quickly to get it over with.
Yan didn't like that option.
He had seen too many honored dogs put down when their services were no longer needed. An often worse option was to adopt out the dogs. Yan had seen that fail, especially one service partner who was left weak and chained with rotten food to eat.
Yan believed another option was available. He would fight for the life of his canine partner.
Yan focused on daily medicinal baths for Sonny's skin condition and the effort brought the illness under control. He believed with all his heart other service dogs also deserved end-of-life options.
His belief inspired an idea.
He set out to change things for service dogs by building a special resort where they could spend their final years simply living life.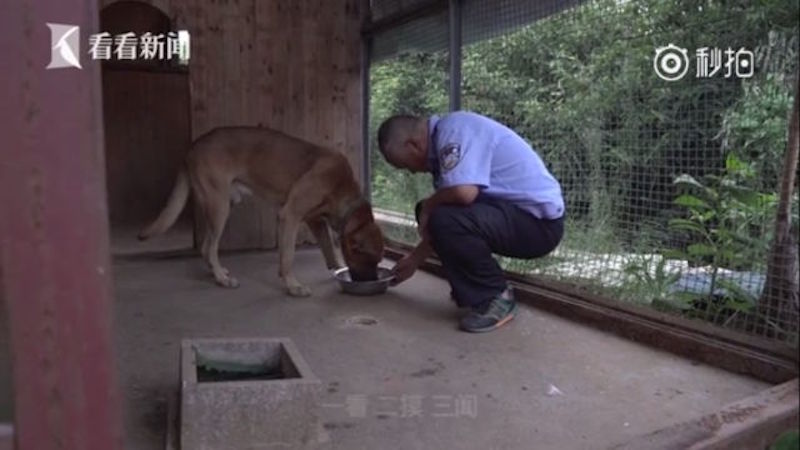 The police dog handler found an area in China with wide-open spaces and plenty of fresh air for his canine buddies. They can spend their days exercising on the assault courses or enjoying the long walking paths. Or, just napping.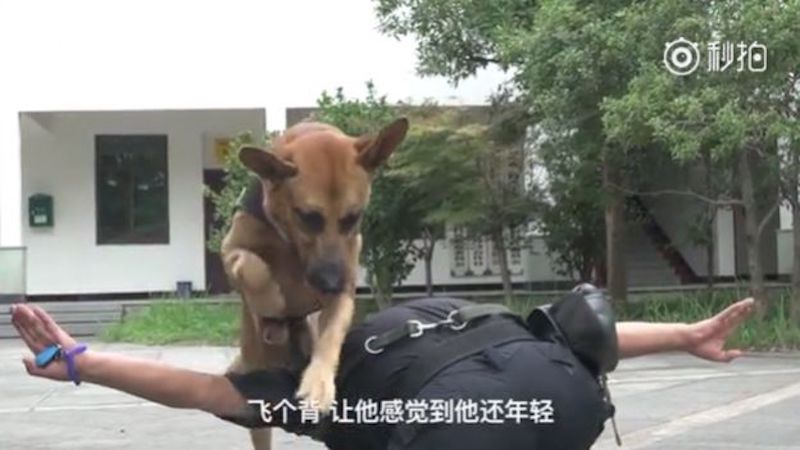 All dogs go to heaven, and Yan provides a cemetery on site where 26 of his deceased colleagues now lay in rest. He sheds bittersweet tears when sharing how 16 canine partners are buried there.
It's a labor of love, and sacrifice, for Yan who raised the one million yuan ($150,000) to pay for the canine retirement home.
He stops in three times daily to prepare meals, spends playtime with the dogs and makes sure they have their medicine. His holidays and weekends are filled with helping the dogs.
People have offered to help Yan pay for the home, but he refuses. He believes the dogs are his family and his responsibility.
That's Yan's service to his beloved canine colleagues.
Source: Gladwire
Article via BBC and Shanghaiist