A man was driving down a country road when he saw something odd on the side of the road.
Curious, he pulled over to check out what he saw moving. He thought he saw something crawling, but couldn't find it when he first started looking through the grass.
He walked for a few minutes, moving the tall grass and weeds out of the way to try to find it.
Then he saw the grass shake again in the area where he saw the movement before. He took a closer look, and there it was – a baby kitten clueless to what was going on wandering out from the weeds and into the road. She was so small that she couldn't be but a few days old.
"I found this little lady [wandering to] the middle of a street so I stopped to pick her up. She was crawling in the street in an area only surrounded by woods so she was either born there and the mother didn't get to transfer the whole litter or someone just dumped her," he wrote.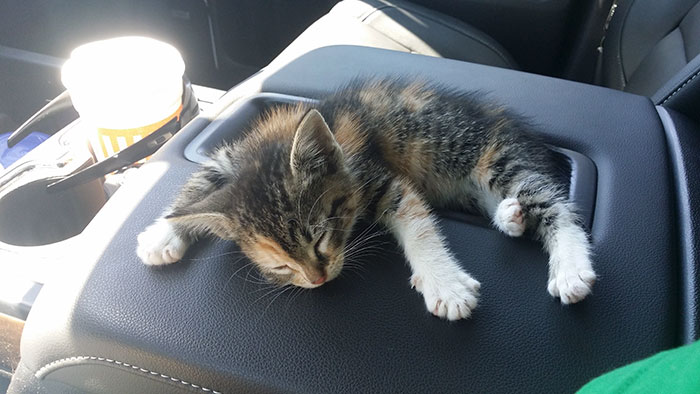 The next morning he took the kitten to the vet for a checkup and to get treated for fleas. On the way home, she fell asleep and he didn't disturb her. When they got home he stayed in the truck for an hour until she finished napping. He even kidded about how loud she snores. He adored her!
Even though he was falling in love with the little kitten, there was one problem that he couldn't ignore.
He explained, "I'm stupid allergic so I had to find her a home. I actually interviewed two people who wanted her and told the first person no because the living situation didn't sound like it would be good for her." 
He was finally able to find her a happy home where she would also another kitten to grow up with. They hit it off right away which was the final test to see if that would be her forever home. She felt like part of the family right away.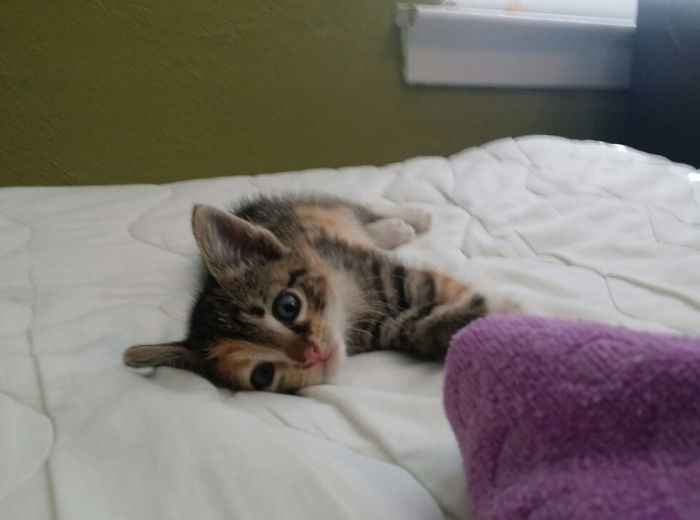 We're so happy that he stopped on the side of the road that day and saved this adorable little girl. If you love this story too, share with your friends and family.
Source: GladWire