A puppy mill owner dropped off his mama boxer to a veterinarian clinic and said that if they couldn't get her back to good enough health for further breeding, then he wanted her put down immediately.
Thankfully, the vet knew this was no downer dog and there was much more to the story.
Once the owner was safely away, the vet gave the sweet boxer named Tracy a full exam and then he picked up the phone
Her diagnosis: malnutrition.
Tracy was skinny and incredibly weak, barely able to lift her head. When she tried to walk, she nearly fell over.
As Dawn Karem of Adopt A Boxer Rescue put it, when she first saw Tracy she thought she didn't have long for this world.
It was obvious that Tracy wasn't in any shape for breeding. It was also obvious she needed a miracle to survive and another to ever live a happy, healthy life again.
She got her first miracle when Adopt A Boxer volunteered to cover all of Tracy's expenses.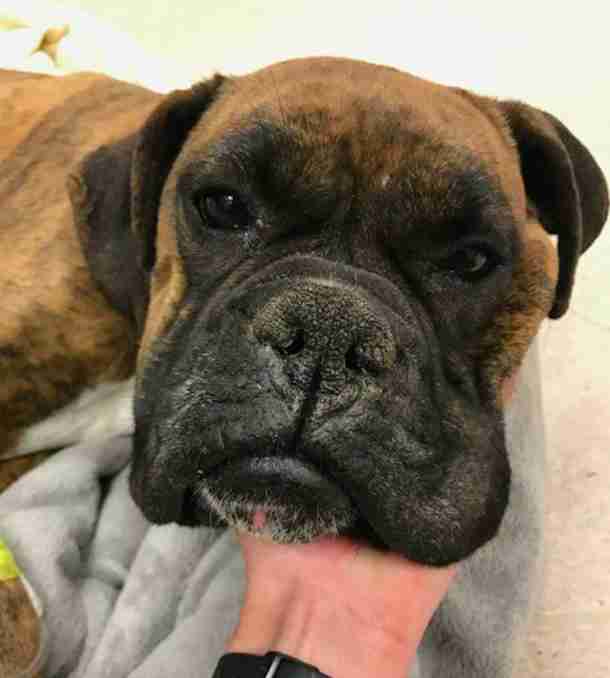 Trcay was transported to the University of Pennsylvania Veterinary Hospital. After extensive testing, the UP vets had a final answer…Tracy was in the advanced stages of starvation. Her body had literally been eating itself.
Quoted in The Dodo, Karem said…
"Every bit of her imbalance, every bit of her condition was because she was locked in a cage on that mill and deprived of the simplest thing that any pet needs," Karam said. "She was only 37 pounds — a female boxer is supposed to be at least 20 pounds more than that."
Tracy went on a feeding tube and spent the next four days in intensive care.Finally she was able to be moved to an Adopt A Boxer-approved foster home.
That was the second miracle that Tracy needed. With experienced foster mom Rachel Hubbard, Tracy quickly gained 10 lbs and was on the mend physically and emotionally from the brink of death just a few days before.
I am hoping that the vet in this story who met the Amish puppy mill owner is able to contact the correct authorities to stop him.
The rest of the puppy mill mamas or daddies need to be protected from being malnourished and then disposed of in such a high-handed and greedy manner.
But for now, we can celebrate Tracy and her beginnings to a full recovery and a long life filled with love.
Source: The Dodo